Christian DUHAUT and associates established EUROTRANS Partners in France in 1990 to offer marketing economics and consultancy services. The main objective was to offer successful development and management consulting services to companies and bodies which wanted to increase their business with the new single European market of 1992.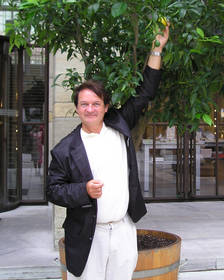 The scope of services included expertise in market studies, business planning, economic research, logistics and marketing. The Consultants had extensive experience in research, strategy, finance, quality, management and international trade.
EUROTRANS Partners took advantage of a strong cooperation with other European consultants and has established over the last fifteen years a EUROTRANS network with an extended scope of expertise and a multi-lingual capability.
EUROTRANS Partners Network now includes 25 consultants and most of our business is located in France, Britain and Romania.
Export and International Project Development are managed from the Paris Roissy Airport Office (eurotrans.eu). EUROTRANS Partners is operated internationally by SAS EUROTRANS Company based in France.
Boulogne/Mer (eurotrans.fr and netvolution.fr), Folkestone UK (eurotrans.org) and Bucharest (eurotransro.com) offices have got each a national competence and dedicated websites.
EUROTRANS Consultants has got now strong references with 300 customers and 1000 studies. Most of these jobs were done for passenger and cargo transport, economic development and strategy consultancy.
EUROTRANS' expertise in the undertaking of market and economic feasibility studies is today recognized and highly regarded notably on high investment transport infrastructure projects (the €4 billion Seine Nord Europe Canal, the €155 million Delta3 Dryport, the recent Saône-Rhin Canal project, and worldwide pipeline projects and petroleum distribution installations).
EUROTRANS has worked in over twenty countries spanning four continents. In Europe, we have mainly worked on private business and management services as well as transport projects in air, land and sea services. We were also the leading consultants in the European Research on «Eurocorridors and spatial planning » in association with seven countries and eighteen regions.
In America and Africa, most of our work revolves around business planning and air or sea transport project set ups. We also have a high expertise in financial and business linked to petroleum projects, and regularly work overseas in that line of business. EUROTRANS is a global player in the provision of services, carrying out feasibility studies and projects on multimodal logistics parks and transport facilities.
In Asia and Middle East, our work has consisted in identifying new suppliers for European traders and we work on different opportunities concerning multimodal logistic centers.
Since our Foundation EUROTRANS Partners strives to provide companies, administrations, hub and port management teams with high quality services, offering good foundations for success in new project undertakings.